Previous Events
On Monday, July 8, 2019, the Foundation sponsored an event at Gracie Mansion – a private tour of the Exhibit: "She Persists: A Century of Women Artists in New York".
We had our own guide, and found the artwork stimulating. A good time was had by all.
On November 29, 2018, the NYWBAF held a fundraiser breakfast at The Cornell Club. Our esteemed panelists  discussed the immigration crisis and its impact on women and children.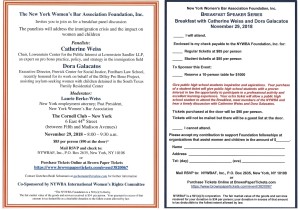 On March 20, 2017, The New York Women's Bar Association Foundation hosted a breakfast fundraiser at The Cornell Club.  The event featured J. Kelly Hoey, author of Build Your Dream Network: Forging Powerful Relationships in a Hyper-Connected World and was moderated by Marilyn Kunstler, a NYWBAF Board Member who was instrumental in organizing the event. Ms. Hoey encouraged the audience to think about the network they need to build by creating a "vision board" of people they admire and reaching out to them.  Ms. Hoey also emphasized the importance of having both shallow and deep networks, the former to foster opportunities and the latter relating to subject matter expertise. The Foundation thanks the following firms for their sponsorship of the event: Berke-Weiss & Pechman, LLP, Boies, Schiller & Flexner LLP, Cohen Rabin Stine Schumann LLP, Condon & Forsyth LLP, and Martha E. Gifford, Esq., as well as to Board Member Marian Burnbaum for coordinating the attendance of the Stuyvesant students, all of whom received a copy of Ms. Hoey's book.

On October 26, 2016, the New York Women's Bar Association Foundation organized a panel of speakers to discuss the Presidential Election from the vantage point of women's and children's issues at The Cornell Club in NYC.  The moderator was Magee Hickey, WPIX-11 reporter, and the speakers were

 

Sonia Ossorio, Executive Director of the National Organization of Women, Karen Greenberg of Fordham Law School (Director, Center on National Security) and Carmen Maria Rey, Deputy Director of the Immigration Intervention Project at Sanctuary for Families.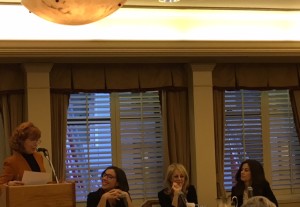 On November 18, 2015, The Feerick Center for Social Justice at Fordham Law School hosted a New York Women's Bar Association Foundation Scholarship Appreciation Breakfast.  Thanks to a generous $100,000 initial donation to the Foundation by Norma Paige, The Foundation was been able to provide two scholarships each year for the last five years.  Thanks to the tireless efforts and generosity of Foundation Board Member, and Fordham Law School alumna, Laurie Berke-Weiss, the Foundation this year raised enough additional funds to sponsor two more scholarships for the 2015-2016 academic year.  Many current and former New York Women's Bar Association Foundation Scholarship recipients were in attendance.  The Foundation is humbled to have contributed to the important work of the Feerick Center by sponsoring talented law students whose careers have been forever shaped by their fellowships.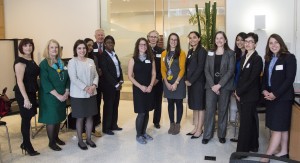 Help us advance our mission to aid women and children in New York and beyond by giving generously to the Foundation. To make a contribution please Click Here.